Open Source Customization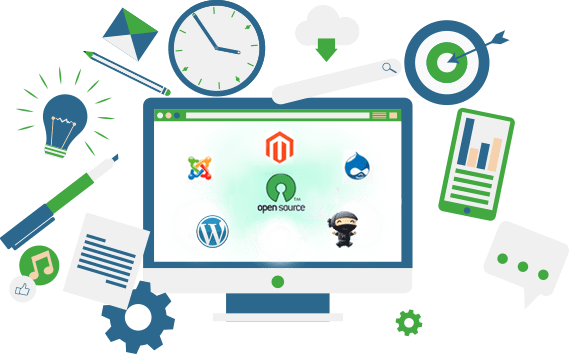 Open source applications are a better way to implement solutions within short span of time. However, each business is unique in its own and it is difficult to fit requirements in those applications directly. Hats Off Solutions converges its years of experience of contributing to the Open Source development community. We offer the open source customization which includes development of custom templates, designing creative skins, working with different modules to be integrated with the different open source web applications. Our clients work with us for their needs that include custom template creation, integration and further customization of the templates, plugin development, custom module development and the application logic changes when integrating with the main application.
We help you by identifying, customizing and implementing the right open source product/tool for your requirement, considering the number of options that are available in the world of open source where customer gets benefit of low cost implementation and faster turnaround time for implementation and at the same time, application satisfies all his business requirements.
Why Hats Off for Open Source Web Development?
Hats Off has large pool of Developers, all of them possessing great technological skills and vast experience in Open Source Customization.
Our strength lies in extending Open Source Customization services on various products to suit our client's requirement.
We follow same predefined processes, coding standards and methodology used in open source software, to provide quality solutions.
Irrespective of personal commercial benefits, we suggest our customers best suitable solution. As and when suitable, we use open source applications available to minimize the cost.
Open Source Application Customization and Framework Experience:
CMS: Joomla, wordpress, drupal, typo3, mambo
ecommerce: magento, X-Cart, PrestaShop, osCommerce, bigCommerce, Volusion Store, Zencart, opencart, Virtumart,nopCommerce
Framework: Zend Framework, CakePHP, CodeIgniter, Smarty
CRM: SugarCRM, vTiger